MSN UK - better by design
A sneaky peek at the new look MSN UK
Hi all –
I've spent a bit of time telling you about some of the content we are planning for our new MSN UK site, with real-time coverage and great exclusives taking centre stage. But what will it all look like?
In this update I'm giving you a sneak preview of some of our designs ahead of the re-launch. This has been a major part of the project – thinking about what is really important to us and our users, and then making sure the designs support that.
That's involved the usual brainstorms, an avalanche of post-it notes, wireframes and conference calls and meetings with our design teams in the US and here in London. And this is where we have got to.
It's quite hard to give the full impression within this post, but this should give you an overall idea of what the new homepage will look like. Hopefully not completely different to the last one - because I know a lot of users liked a lot of the features - but hopefully fresher and better. Have a quick look here, and then further down I can talk about some of the specifics....
The new homepage
Overall, this is about clearer navigation, bolder promotion of our best content, a commitment to real-time coverage, and prominent positions for our key channels further down the page.
And note that the content itself in the screenshot below is dummy material not the actual content we are going to publish at launch. It's sometimes difficult to separate in one's mind the actual design, which is what we are looking at here, from the dummy content displayed. This is why designers tend to use text in Latin rather than in English in early mock-ups; this mock-up is beyond that stage and so uses dummy content in English. But don't get distracted by it...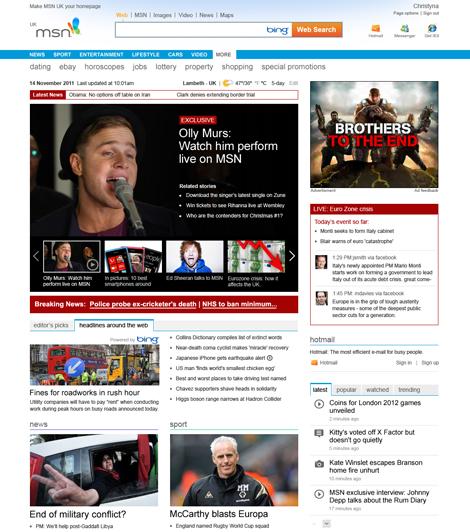 Top of the shop
The navigation is much clearer and less cluttered on the new site, giving you a clear view of our priority areas of coverage. Direct links to Hotmail and Messenger remain at the top of the page, plus your route to the wonderful world of Bing. And for the first time we have a timestamp to tell you when the site was last updated. I want everybody to know that this site will be updating around the clock, 24 hours a day, 365 days a year!

Our best content
What we call the infopane, this has been one of the most significant changes to the site. You will be able to see more than one of our top items via the smaller images, and the main image looks much more appealing (in my view) and does a much better job of highlighting our best content. You can also click the carousel to see even more choices.
And I expect us to make really good use of this area, making sure we promote only the best, most interesting, multi-media, original content.
On this screengrab, you can also see a new ticker, bringing in latest news headlines from around the world, and the red strip further down highlighting breaking news of real importance that our homepage editors select to highlight to you.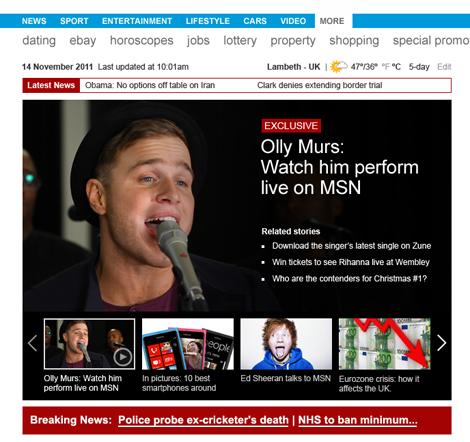 Going live
Over on the right hand side of the page we will be introducing a live coverage module, highlighting some of the great coverage we now offer in real-time. This could be from News, Sport, Entertainment and beyond, providing the most recent updates and linking through to our live coverage page. If something important is happening in the world, now, it will be in this box. 
And you can see we are still keeping the Hotmail module nice and prominent for all of you who make regular jumps between MSN and your Hotmail inbox.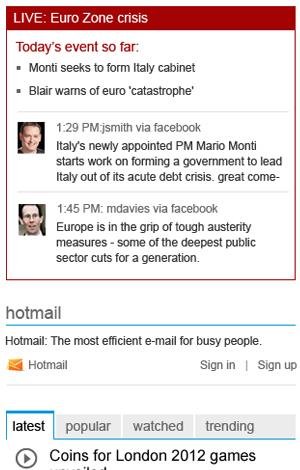 What's happening now?
Finally for now, here's the module that will tell you exactly what is happening on MSN UK in real-time.
The latest tab shows you all the most recently published content, popular is what is being shared between users, watched is the videos on the site that are being looked at most, and trending will tell you the topics that are getting hot around the web and on social media. This trending tab is a great development and one we will be building on in the future.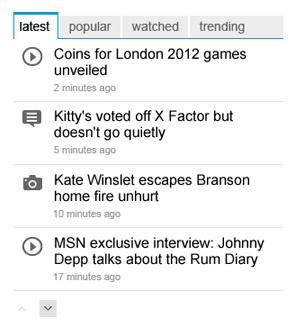 So that's about it for now. The other thing to say is a lot of these modules will appear around the site as a whole. The new "infopane" will be at the top of each channel homepage, the live coverage box can spring in to life across News, Sport, Entertainment, Lifestyle and Cars, and the "what's happening now" box will be on pages across the site giving specific information for the relevant channel.
I hope you like it. We have a busy couple of days getting the site ready to go live, and no doubt there will be a few heart-stopping moments in the meantime. Amid all that, I am really looking forward to your feedback. You can leave comments on this blog, of course, and you might also like to try the new "improve this page" feedback button over on the left of this page. This is another new addition, and something we will write more about in due course.
All the best, Pete

Hi Ali - good to hear from you. I hope you like it when you see it for real tomorrow.. I think you will see a wider range of content. Great photo galleries have a place on the site, and our gallery feature is much slicker than it used to be. But the re-launch is about improving the user experience, so I don't want to over-use galleries in the way you describe.
And I very much hope you will find greater consistency in the designs across the site. That has been one of the main objectives.
Thanks again for your feedback. Best wishes, Pete

Cool.  I like the new design, it's much cleaner and appears a lot more "live" than the current homepage.  Good work.
Will be interested to see how the content takes shape.  I'm hoping there will be more articles replacing the current overuse of the photo slideshows (which seem like a ploy to increase page/ad views and are a pain to have to click through).
Also, hoping there's more consistency with the new design too.  Click to the current "cars" homepage for example and the highlighted section at the top (which was meant to indicate where you are) isn't cars at all, it's "Him"...  Click on Money and the highlighted section is "Cars"... 
But anyway, those are my gripes about the current version of MSN rather than what you're currently working on.  Looking forward to seeing the new look MSN tomorrow.
Incidently, I used to follow your blog on BBC News and appreciated the insight.  Please keep up the blogging here, it's good that this blog is finally now being updated.
Are you sure you want to delete this comment?