Introducing the "best of now"
MSN UK's executive producer Pete Clifton on our tireless quest to be "the best of now" for our millions of loyal readers.
When we relaunched MSN UK last November our focus was on more real-time coverage, along with great exclusives, high quality video and a better presence beyond the main website.

We can put a tick alongside a lot of these – we regularly switch to live coverage for anything from the Brits red carpet to Murdoch being carpeted by Leveson; our breaking news box delivers 24x7 updates from more than 600 media sources around the world; we publish original content and great video events every day; and MSN UK can now be found on mobile, iPad and our very own Xbox channel.

So far so good, and the feedback we gather from you suggests our commitment to fast updating and live coverage has really made a difference to your view of MSN UK.

Now it's time to turn up the dial some more. Our site is the place to come to for "the best of now", and we will soon reveal a classy new video to help get the message across too.
With so much happening across the web every second – stories published and updated, comments, recommendations, tweets, recommendations and even the odd poke – it can seem impossible to make sense of all the noise. And that's where we come in.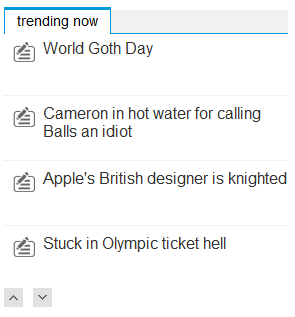 Trending box
Our trending box will move to the top right of the homepage, and we have a newly developed visualisation tool that gives our team a real-time view of the latest trending topics across search and social networks.
With that dynamic data we will have our journalists in London (and other MSN newsrooms around the world) working around the clock to highlight these emerging topics and tell you why they are making waves.
Click through to read about a topic and curated Twitter lists will provide you with a live insight into what other people are saying about the issue, as well as some really neat data visualisation to show you how different topics are getting hotter and colder.

Live voting
The homepage responds quickly to unfolding events and will include a live vote every day. This will deliver thousands of votes every hour and will give us great insight into the views of our readers.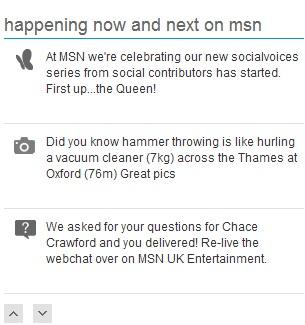 Happening now and next

This will be filled with Tweets from writers on our homepage team and give our readers a regularly updating view of things that are happening across MSN UK.

Find out when we expect to publish our next exclusive; which pop star is coming to be interviewed, when we think court cases will start, when our live Wimbledon coverage begins….. you get the idea. I think this will be an excellent aid for our users, providing them insight into what we are doing and ensuring they return for more updates.



Social voices

And finally, but by no means least, we are introducing our new stable of "socialvoices". We have recruited a range of bright and challenging writers from Twitter who are geared up to respond on a daily basis to events as they happen. I hope these writers will provide plenty of opinion and insight, and give all our readers plenty to react to. Ahead of the launch we have published a few of these pieces as a trial, and they have created a real buzz.

@Queen_UK at the Chelsea Flower Show
My big fat geek wedding
Put all these things together and they represent another bold step in our "best of now" mission. But it's by no means the end of the journey; we have a whole bunch of new features that we will be unleashing on the site over the coming year.


In the meantime, please enjoy all that MSN UK has to offer and come back tomorrow to visit our "best of now" page. We will reveal more information about our plans and you can find out how "Now" you are. Go on give it a try!

All the best, Pete